Chicago Video Production Services
Richter Studios – Chicago's Iconic Video Production Company
Our Chicago video production team infuses the art of cinema into every project. We differentiate your brand, product, or service in a distinct way that few others can match.
Anyone can shoot a video. Few can create an outstanding cinematic experience. Meet the Chicago video production company known the world over.
Since 1997, Richter Studios has delivered exceptional storytelling, creative technology, and ingenuity to the world's most celebrated brands. Partnering with Richter Studios includes:
Dedicated, full-time team of master craftsmen
Strong creative foundation in the art of cinema
Consultative approach to your business needs
Variety of modern, powerful video styles
We're a unique Chicago video production company that doesn't just create standard videos. We develop content through a traditional theatrical approach. This focus provides you with a distinct marketing edge. We you help you achieve the cinematic advantage.
Our Capabilities
What type of video are you looking for?
There are several different ways to communicate through video. We'll help you select the type that best suits your needs.
Who can I speak to about a project?
If you have questions and would like to speak to us about a project, call us at (312) 861-9999 or send a message.
Our Work
Working with Top Companies and Brands in the World
We're proud of the work we've done. We've partnered with many of the world's leading brands to create original, memorable video content. We hope you enjoy our portfolio and contact us to discuss your project further.
The Richter Difference
We Bring The Power of Cinema To Video Production
In an age of increasingly saturated video content, you have to find a unique way stand out. The truth is, standard video fare is becoming less effective every day. Our answer to this challenge is tell your story by bringing the best aspects of film and cinema to video and animation productions.
---
Our Video Production Process
Great video content requires a sound creative roadmap. As a full-service Chicago video production house, we implement a time-tested production process ensures that your project goes smoothly. It includes the following:
Multiple approvals and creative feedback throughout your project
Full transparency in how we source talent, locations, music and stock content
Comprehensive Pre-Production planning (creative strategy, concepts, scriptwriting, storyboards, casting, and more)
Gold Standard Production (award-winning directors, best-in-class cameras, sophisticated lighting, experienced crews, etc.)
Post-Production Awesomeness (fast and intuitive editing, color, diverse animation skillset, sound design, etc.)
Project Debrief (we encourage discussing projects upon completion; identify strengths, areas for improvement, etc.)
Take the leap and contact us to learn more about why our clients say "Partnering with Richter Studios is the best marketing decision they've ever made."
---
West Loop Production Studio
The Windy City is a production metropolis and no place exemplifies this better than our beautiful West Loop location. Aligned with the "Roaring 20's" vibe seen and felt everywhere in our neck of the woods, we have built a creative space that inspires both our award-winning team and our trusted clients. Features of our unparalleled studio space include:
5,000 square foot Chicago production studio
State-Of-The-Art Production Stage
Modern Kitchen, Conference Room & Lounge Area
50's Diner Booth, Brunswick Classic Pool Table & Retro Jukebox
2 Editing Suites
Richter Studios does not rent its studio space. However, clients that retain our production crews to film or photograph at our space are not charged a studio rental fee – one of the many benefits of partnering with our award-winning production team.
---
Red Carpet Creatives
Earned over two decades while amassing a portfolio of over 10,000+ "films" for our clients, the creative team at Richter Studios is very proud of the many awards we have won. This has been achieved by our attitude of having a "Blue Collar Work Ethic With Red Carpet Dreams." This creative combination has led to:
Winning over 50 International Awards
Having a comprehensive production rolodex of proven creatives, both full-time and subcontractors
To borrow a baseball analogy, we're not interested in hitting a series of singles and doubles to win for our clients. Partnering with our Chicago video production team means swinging for the upper deck. Contact us now to learn more!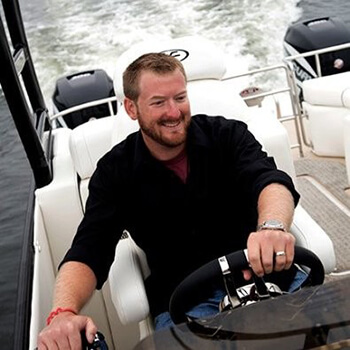 We value their attention to detail and ability to consistently exceed our expectations.
"The team at Richter Studios has consistently delivered high-end commercial cinematography showcasing our two brands of pontoon boats over the past four years. We value their attention to detail and ability to consistently exceed our expectations. Richter Studios always seems to have the latest and greatest equipment and fresh ideas that really help make our products stand out from the competition."
Mark Wyrick | Brunswick Boat Group