Harris
Lavish comfort and thrilling performance are just some of the reasons why Harris has been a leader in the pontoon boating industry for over 60 years. Take a look at this series of brand films to see the Harris line of luxury pontoon boats in action and see for yourself.
HARRIS | LUXURY PONTOON BOATS
For nearly a decade, Richter Studios has been the trusted video production agency for the Harris brand. Each summer, our film crews take to the air, sea, and land to produce stunning brand videos and product videos for this iconic brand.
Sophisticated styling. Premium construction. Innovative technology.  They're just some of characteristics you'll find in each and every Harris pontoon.
Gyrostabilized camera rigs. Photo boats. Helicopters. Drone platforms. Waterproof housings. They're just some of the tools we've used to capture these amazing luxury pontoon boats from unique perspectives. Watch this series of luxury pontoon boat videos to see the results.
Comprehensive Productions
As a full service video production agency, Richter Studios has been a trusted creative partner of Harris for nearly a decade. In what has become an annual ritual, our film crew takes to the water to capture these luxurious pontoon boats in action.
As seen in this branded video production, there's no better way to spend a summer day than out on the water aboard a luxury pontoon boat by Harris.
What does a video like this cost?
If you'd like to know what it might cost to produce something similar, call us at (312) 861-9999 or send a message.
From the distant past to the present day, the Harris brand is synonymous with fun and leisure. Span the decades with this corporate video production as we take a look back at a proud legacy in this tribute to the brand's 60th anniversary.
Creative inspiration can come from anywhere. As part of our series of luxury pontoon boat videos, we got behind the scenes in this product video to see how these amazing boats are created.
There's a lot that goes into engineering a world-class pontoon boat. As you'll see in this corporate video production, nothing is left to chance at Harris.
Have you ever wondered how something as complex as a luxury pontoon boat gets manufactured? Here it from someone who knows in this product video production — a Value Stream Engineer at Harris.
Quality and safety. These are the guiding principals of Harris. In this corporate video production, you'll take a glimpse behind the scenes to see how Harris lives up to that promise.
The finest leather. The best electronics. When you're building luxury pontoon boats, you need partners who can supply critical components just-in-time — that's the story told in this product video production.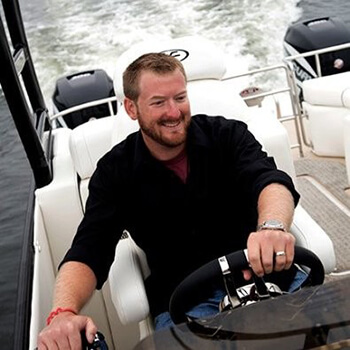 We value their attention to detail and ability to consistently exceed our expectations.
"The team at Richter Studios has consistently delivered high-end commercial cinematography showcasing our two brands of pontoon boats over the past four years. We value their attention to detail and ability to consistently exceed our expectations. Richter Studios always seems to have the latest and greatest equipment and fresh ideas that really help make our products stand out from the competition."
Mark Wyrick | Brunswick Boat Group