Chicago Animation Studio
Richter Studios – Chicago's Leading Motion Graphics Studio
Our award-winning Chicago animation studio crafts your messaging in a visually dynamic ways. As a leading motion graphics studio, we provide the rocket fuel that will differentiate your animated video production. We are well-known for our 2D animation services, product animation and animated videos for business,
Our Work
Animated Video Production For Top Brands
We are a motion graphics studio that has been cranking out great creative for over two decades. As a leading Chicago animation studio, we have worked with some of the world's top brands to develop original animation content. Let's create something memorable together.
---
Why Are Animations A Smart Marketing Investment?
Animations can be the overall style of a video, or just a creative treatment featured during portions of a video. There are many reasons why animation can be a great avenue to pursue for your next production. We recommend animation in the following scenarios:
Explaining sophisticated concepts in visual, easy-to-understand ways
The features & benefits of your product or service which would be difficult to showcase through custom-filmed footage
A desire for maximum creative flexibility ("Animation can explain whatever the mind of man can conceive." ~ Walt Disney)
When you want to emphasize portions of your video and better engage viewers
When budget doesn't permit custom-filming
Our Chicago animation studio began as an animation and digital cinema studio over 25 years ago. We have extensive experience with animated video production, including 2D animation services, 3D product animation and business animation.
---
What Are Best Practices For Animations?
Animation offers the greatest range of creative flexibility but, in order to maximize the effectiveness of your message, there are some basic guidelines we would recommend:
Keep the focus of your messaging narrow. Your audience will remember more.
Determine if you are looking to inform or excite. Or both. This informs the creative approach needed.
Approve final scripts and storyboards before animation begins to avoid costly rework.
Incorporate sound effects where possible. The more immersive your animation, the better.
Remember that more than 85% of video viewed on social is without sound. Onscreen text is critical to convey your messaging.
Developing great animations requires creative expertise. Richter Studios has won at the Cannes Awards in France several times for creative projects involving animation. Our master craftsmen can assist you with creative concepts, script development, voice talent casting and a variety of animation techniques.
Who can I speak to about a project?
If you have questions and would like to speak to us about a project, call us at (312) 861-9999 or send a message.
---
What Is The Process For Creating Animations?
In order to ensure the best outcome for your animation production, we recommend following these essential steps:
Research and share animation examples that you want to emulate. This helps frame creative expectations.
Define the key messaging that is to be conveyed with animation.
Scripts and storyboards developed and approved BEFORE beginning any animation work.
Select voice talent and music tracks early in the process. They will influence the cadence and timing of your animation.
Most projects include two (2) rounds of revisions so you can make minor tweaks and revisions before finalizing an animation.
Richter Studios follows a proven video production process, and we encourage feedback from our clients at key milestones along the way. The more engaged you are during the creation of your animated video production, business animation or product animation – the better your final animation will be.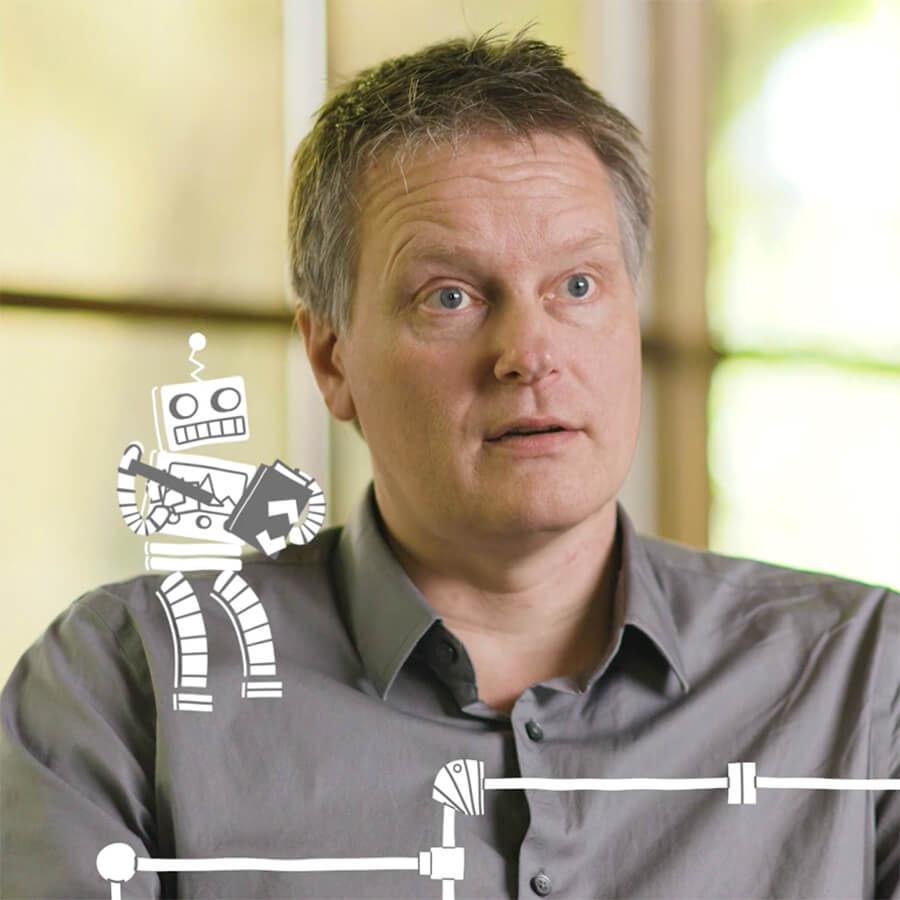 ---
How Can I Differentiate My Animation?
Making the decision to produce an animation opens many creative opportunities but it's critical that you seek to differentiate. We recommend the following ideas to help your animation standout:
Study your competition and see how they use animation. Identify areas of exposure.
Consider combining two different animation styles. Hybrid approaches may provide you with an edge.
Aim for great messaging. Quality messaging trumps technical wizardry that translates into better viewer retention.
Consider different aspect ratios. Square, Vertical, Super Widescreen, etc.
Experiment and push boundaries. Try a one new creative treatment that you've never seen before.
We differentiate your animations by embracing the art and craft of cinema over a traditional video approach. Clients have called it the "Richter Difference" and it has led them to many red carpet celebrations featured around the world.
I had a phenomenal experience creating a B2B animated video with the team at Richter Studios.
"I had a phenomenal experience creating a B2B animated video with the team at Richter Studios. Everyone worked hard, was very responsive, and produced a quality product that not only met our requirements, but brought our vision to life. I highly recommend them."
Tina Kvavle | Kaufman Hall
Facts About Animations Created By Richter Studios
The master craftsmen at Richter Studios have developed over 12,500 "films" over the past 25 years. Many refer to us as the gold standard in video production and animation.
Companies which are a good fit to retain Richter Studios have a deep affinity for creative excellence. We seek to build lasting partnerships that inspire our creative team to develop powerful video and animation solutions for our clients. Our pricing structure reflects the craftsmanship which has been featured at the world's most celebrated red carpet events.
How Long Does It Take To Create An Animation?
Most animations created by Richter Studios take between 4 to 6 weeks to produce. If you're providing a finished script, 3 weeks is typically the case. If we're writing the script and providing detailed storyboards for review, a finished animation may take up to 6 weeks.
How Much Does An Animation Cost?
If your team is providing us with a finished script, pricing begins around $15K.  If we're crafting the script and developing storyboards, then the starting price is around $20K . However, the total running time and sophistication of your animation dictate how much the pricing increases from these base levels.
What Do I Need To Do To Get Started With Richter Studios?
The easiest way to get started is to visit our contact page and fill out a brief form. You can also call us by phone at (312) 861-9999 or chat with our representatives directly from this page. Once we learn more about your project, we'll prepare a formal proposal outlining our approach with a line item cost.