Brand Videos: The Soul Of Your Company In Motion
A branded video production captures lifestyles which resonate with your customers. Richter Studios embraces the art of digital cinema to amplify your message and establish deep emotional connections with your target audience.
---
What Is A Branded Video Production And Why Invest In Them?
A branded video production is more than your average corporate video production. Beyond simply stating "what" your organization does or "how" it goes about doing it, brand videos tend to focus on answering a deeper question — "why" are we doing it. Typically, branded video content:
Seeks to connect with your target audience on a deeper, more emotional level.
Creates a personal connection by incorporating custom filming that's unique to your organization.
Avoids diving to deep into product or service details — they tend to focus on the broader story.
Many branded video productions focus heavily on scripted messaging — conveyed through voice narration, dialogue, or onscreen text.  Others seek to answer "why" by conveying an experience, a feeling, or emotion through compelling visuals and music.
---
What Are Best Practices For A Branded Video Production?
Like any creative endeavor, rules are often bent and sometimes broken.  There are, however, some general principles to consider when planning your next brand video (brand film):
Know your target audience.
Define your key messaging, takeaways, or call-to-action.
Less is more. Avoid the temptation to say too much.
Be concise. A running time of 1-3 minutes is typical.
Simplicity over complexity. Focus on the key takeaways.
Be authentic. Stay true to your brand.
Branded video content is a great way to showcase your organization in a variety of ways — featured on your home page, shared during in-person meetings, or presented to larger audiences in a conference environment.
Who can I speak to about a project?
If you have questions and would like to speak to us about a project, call us at (312) 861-9999 or send a message.
---
What Is The Process For Creating A Branded Video Production?
Like any video production, you'll follow a linear flow from Pre-Production, to Production, and through to Post-Production. For a branded video production, extra time and attention should be spent in the initial planning phase:
Define your target audience, key messaging, and tone.
Select a storytelling style that best suits your defined goals.
If a scripted storytelling style is chosen, drafting a strong script is essential.
If an experiential, music-driven style is chosen, identifying the right music is key.
Cast the right voice or onscreen talent.
Identify and secure the ideal filming location..
Plan your shots and develop storyboards when appropriate.
Taking added time and care during Pre-Production to address topics like these is the best way to ensure a successful outcome while avoiding wasted effort and unnecessary expense.
---
How Can I Differentiate My Branded Video Production?
Begin by being true to your brand. Seek to tell your unique story. That alone will create differentiation. Also, your audience should have a cinematic experience when they view your brand video. To achieve this, you'll need a cinematic approach to production:
Keep the message simple and focus on the emotion you want your audience to feel.
Cast professional talent and hire a professional production crew.
Film with cinema-grade cameras and lenses.
Go beyond a tripod to introduce camera motion.
Consider filming with multiple cameras and drones to add a whole new dimension.
Don't skimp on gaffers. Lighting is critical to achieving a cinematic look.
Add animation where appropriate.
Invest time in Color Grading and Sound Design.
Take a deeper dive into these topics and more by exploring how Richter Studios can differentiate your branded video production by clicking the link below.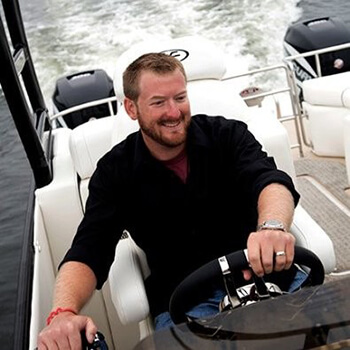 We value their attention to detail and ability to consistently exceed our expectations.
"The team at Richter Studios has consistently delivered high-end commercial cinematography showcasing our two brands of pontoon boats over the past four years. We value their attention to detail and ability to consistently exceed our expectations. Richter Studios always seems to have the latest and greatest equipment and fresh ideas that really help make our products stand out from the competition."
Mark Wyrick | Brunswick Boat Group
Facts About Video Production By Richter Studios
The master craftsmen at Richter Studios have developed over 12,000 "films" over 24 years. Our portfolio has won over 75 international awards.
Companies which are a good fit to retain Richter Studios have a deep affinity for creative excellence. We seek to build lasting partnerships that inspire our creative team to develop powerful video and animation solutions for our clients. Our pricing structure reflects the craftsmanship which has been featured at the world's most celebrated red carpet events.
How Long Does It Take To Produce A Video?
It often depends on the style of the video production that you'd like to pursue. An instructional video, trade show video, or social media video can take as little as 4-6 weeks. Larger productions — like brand films or commercials — can take 8-12 weeks.
How Much Does It Cost To Produce A Video?
An animation-based explainer video can cost as little as $20K. Productions that require custom filming — like corporate videos or testimonial videos — typically begin around $35K. Larger productions — like brand films or commercials — which require multiple days of filming, aerial cinematography, or sophisticated animations often range between $50K to $250K. If you have an established budget, we can also work backwards to find the creative approach that's right for you. Repeat clients enjoy more flexible rates and priority scheduling.
What Do I Need To Do To Get Started With Richter Studios?
The easiest way to get started is to visit our contact page and fill out a brief form. You can also call us by phone at (312) 861-9999 or chat with our representatives directly from this page. Once we learn more about your project, we'll prepare a formal proposal outlining our approach with a line item cost.
Brand Films
Looking for some great brand film examples?
Each of these clients leveraged our brand film production services. No two productions are exactly the same but we encourage you to explore our portfolio to view examples of similar work or to find inspiration for your next video production.