Cypress Cay
Swooning for pontooning. Cypress Cay pontoon boats stand apart for their safe construction, ease of use, and superb reputation. Their distinctive qualities — smooth ride, incredible comfort, and sense of security — make Cypress Cay pontoons the obvious choice for water-loving families. "Days on the water should be worry-free," says Cypress Cay. We feel the same about the branded video content we created for them.
CYPRESS CAY | LUXURY PONTOON BOATS

A refreshing breeze, the warmth of the sun, the rhythm of the waves…maybe even a little water-skiing. We capture the incomparable feeling of a day on the water.
For this collection of branded video content, we make viewers taste the pleasure of pontoon boats with stunning RED footage and smooth drone cinematography, overlaid with upbeat music and using only on-screen text for narration.
Supermodels. With gorgeous light, fabulous framing and a constant sense of movement, our promotional video company showcased the best of Cypress Cay's 2018 models.
Marine magic. Focusing on features — and feelings — our web video company built a "best of" video for Cypress Cay's 2017 lineup of pontoon boats.
Who can I speak to about a project?
If you have questions and would like to speak to us about a project, call us at (312) 861-9999 or send a message.
If you build it, they will come boating. Recognizing their customers' deep interest in how pontoon boats come together, Cypress Cay engaged our corporate video production company to chronicle the making of a pontoon, start to finish.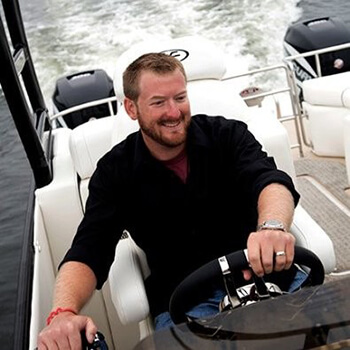 We value their attention to detail and ability to consistently exceed our expectations.
"The team at Richter Studios has consistently delivered high-end commercial cinematography showcasing our two brands of pontoon boats over the past four years. We value their attention to detail and ability to consistently exceed our expectations. Richter Studios always seems to have the latest and greatest equipment and fresh ideas that really help make our products stand out from the competition."
Mark Wyrick | Brunswick Boat Group